---
Business Hours: Mondays to Fridays, from 8:30am to 5.00pm
Saturdays from 8.00am to 1.00pm (Last and 1st Saturday of the month 08:00am-2:00pm)
Bellville and Plumstead Store will be open on Saturday 16th June 8.00am to 1.00pm.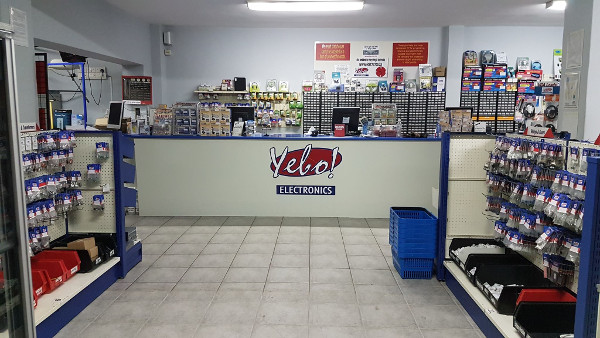 Stores in Bellville and Plumstead.
See our Store Locator Page for details of locations
and how to contact us by e-mail or Skype.
All prices quoted on our website, include South African VAT at 15 %
---
For the very latest, including recent arrivals,
what's new and special offers, see our



Like Us on Facebook

---
IR-120 INTERNET RADIO - DAB AND FM
Internet radio - tune into thousands of free internet radio stations (Limited stock)

DAB+ and FM RDS radio
built-in Wi-fi function for easy connection
USB input for direct playback of MP3, WMA and AAC & charging
wireless network streaming function (DLNA/UPNP)
plays all major formats (MP3, Real Audio/WMA/AAC)
2.8 TFT display with backlight
3.5 mm earphone output
3.5 mm AUX input
clock, alarm & sleep timer function
3 W volume output power
Motor Drive Shield L293D For Arduino
The Motor Shield is able to drive 2 servo motors, and has 8 half-bridge outputs for 2 stepper motors or 4 full H-bridge motor outputs or 8 half-bridge drivers, or a combination.
View more details and place your order by going to Order Code ARD07E.
DIY Digital Oscilloscope Kit
A low-cost DIY Digital Oscilloscope Kit using the ARM Cortex-M3 processor (STM32F103C8), and includes a 2.4-inch colour TFT display. Can be used as ARM test development board.
See more details at Order Code AML71G.
37-in-1 Sensor Module Board Set for Arduino
A set of 37 different sensor modules for use with Arduino. Supplied in a handy storage container.
For a complete list of modules included in this kit, please go to Order Code AMH25G.
Basic Starter Learning Kit UNO For Arduino
This new product is proving to be extremely popular with customers. As soon as stock arrives we've completely sold out! (To avoid disappointment why not place an order with us and this will mean we automatically reserve stock for you the next time a shipment arrives).
This is a great starter learning kit that walks you through the basics of using the Arduino in a hands-on way.
You will learn through building several creative projects.
Starting the basics of electronics, to more complex projects, the kit will help you control the physical world with sensor and actuators, making it ideal for those wanting to learn the exciting world of Arduino!
Check out what you get for your money and see more details by going to Order Code ARD09E.
UNO R3 ATmega328P Board + 2.4 Inch TFT LCD Touch
UNO R3 ATmega328P Board + 2.4 Inch TFT LCD Touch Screen Module For Arduino.
Now in stock, see Order Code ARD08E.
White High Bright LED Chips, DC 9-12V
An incredibly bright pair of 10W super bright LED chips, available in either pure white or warm white, suitable for use from a regulated DC source of 9-12V.
Now in stock, see more details at Order Code LED781 for pure white and LED780 for warm white.
DFPlayer Mini MP3 Player Module
DFPlayer Mini is a compact and inexpensive MP3 module that is simply connected directly to a suitable loudspeaker. The module can either be used as a stand-alone unit, with dc power, loudspeaker and optional keypad connection, or through serial port control, as would be the case with the Arduino UNO or any microcontroller with a serial port module. Other applications may include model railway sound effects, for example. The module is compatible with MP3, WAV, WMA formats. While the software supports TF card driver to support FAT16, FAT32 file systems.
Now in stock, see Order Code AMH33G.
25W+25W Wireless Bluetooth 4.0 Audio Receiver
TDA7492P 25W+25W Wireless Bluetooth 4.0 Audio Receiver Digital Amplifier Board. On board dip switches provide for amplifier gain of 21.6dB, 27.6dB, 31.3dB or 33.6dB.
Simply connect suitable dc power supply and left and right loudspeakers. Module includes Bluetooth receiver module and LED Bluetooth signal indicator.
See more details at Order Code AMA01G.
0.28 Inch 2.5V-30V Mini Digital Voltmeter
A range of inexpensive mini digital voltmeters designed for direct connection across the potential to be measured.
Available in various colours, see more details at Ready Assembled modules.
1,000W UPS (Uninterrupted Power Supply)
UPS (Uninterrupted Power Supply) which converts a 12V DC battery input to standard household AC power when mains failure occurs, rated to a maximum of 1,000W Continuous and 2,000W Surge. Also features built-in in battery charger to recharge the battery when domestic mains supply is restored. Will automatically switch to UPS mode when domestic mains fails.
Full details can be found by going to Order Code TML20S.
Premium Ultra High Speed V2.0 HDMI Lead, 3D 4k
Now in stock, a new range of high quality HDMI leads, various lengths, designed to comply with the very latest V2.0 specification, meaning that they are compatible with 3D and 4k Ultra HD.
To view the complete range and check out our competitive prices, see our HDMI, Version 2.0 section.
Tecmate professional quality battery chargers
We stock a range of high quality battery chargers that do so much more.... they diagnose, recover, charge, test and optimally maintain, and ALL AUTOMATICALLY! This makes them perfect for applications such as lead acid battery maintenance, for example.
To view the entire range of Tecmate products, go to our Chargers Section.
Yebo Electronics doesn't own all the Trademarks represented on this site.
All Trademarks and Tradenames are properties of their respective owners
and are used only for clarification of the compatibility of our products with the
products of the different manufacturers.
Product images are for illustrative purpose only. Actual product appearance
might differ from the shown images, due to changes and
improvements by manufacturers.
---