---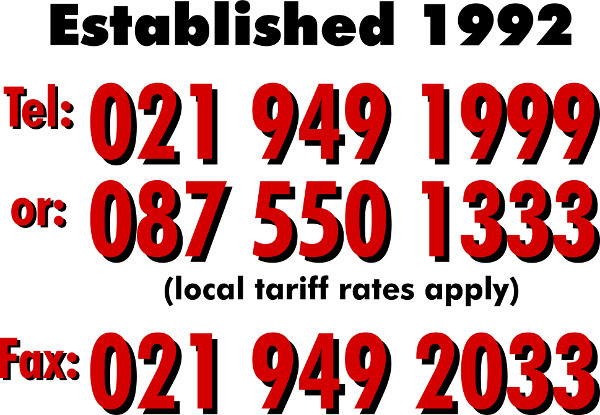 All prices include South African VAT
Stores in Bellville and Plumstead.
See our Store Locator Page for details of locations
and how to contact us by e-mail or Skype.
---
For the very latest, including recent arrivals,
what's new and special offers, see our



---

LED 5mm Clear Hi-Bright RGB, 50°
A recent arrival is another 5mm high-bright LED. This differs from most in that it has a white diffused 5mm housing, has an operating voltage of 5-10V DC and is constantly changing colour by slowly sequencing through red, green, blue.
You can view the full specs, as well as download a datasheet, by going to the Order Code LED599.
Cellswitch 100
The Cellswitch is a simplified mobile cellular phone that can be connected to an electronic appliance or device to enable you to communicate with it using your own mobile phone. You insert a pre-paid or contract sim card into the Cellswitch and communicate with it by sending it an SMS text message or by simply calling it, just like you would SMS/text or call your friend. Perfect for remote controlling of home/office appliances or alarm communication.
Now ONLY R1,399, see a description by going to Order Code ACC00S.
Terminal Block Projects for Kids, ONLY R199
A kit that comprises of a set of ten different fun projects that are aimed at children (7 years upwards) and is an ideal way of introducing them to the exciting world of electronics. No prior knowledge is required and none of the projects require soldering or special tools, other than a small, standard, flat blade screwdriver.
For more details, along with a list of projects featured in the kit, see Order Code NCR10S.
Breadboard Projects for Kids, ONLY R249
Just like the terminal block kit (as above), this kit assumes that the constructor has little, or no knowledge of electronics. And the use of a breadboard means that no soldering is required. Everything is included, the breadboard, all components, detailed instructions and even a 9V battery!
10 projects are included in the kit, see Order Code NCR11S for details.
GoTab 6 DIG!T™, ONLY R999
Introducing DIG!T™ the pocket-size Android™ pad. Letting you live life on your terms & keep tabs on everything you dig…
DIG!T has a silky smooth CAP screen, Wi-Fi, Android™ 4 & Play Store so you've got the latest tech to do whatever you want. Its 6" big, small enough to fit in your pocket so it's with you everywhere you go!
Now in stock, see Order Code ANL40G for details.
Roberts Radios
Founded in 1932, Roberts Radio Limited is the UK brand leader in the portable radio market, sold around the world from Japan to USA, and now in South Africa!
Selected models are now in stock and can be viewed by going to the Radios category on our website.
DIY Digital Surveillance Kit with Networking
A complete 4-channel economical standalone CCTV system, ideally suited for home or small business, all for less than R2,700! Just add a hard drive.
Full details at Order Code, WIT96C.
Programming Arduino Getting Started with Sketches
Clear, easy-to-follow examples show you how to program Arduino with ease!
Programming Arduino: Getting Started with Sketches helps you understand the software side of Arduino and explains how to write well-crafted Sketches (the name given to Arduino programs) using the modified C language of Arduino. This practical guide offers an unintimidating, concise approach for non-programmers that will get you up and running right away.
Full details at GBL94G.
Telephone Recording Adaptors
We've added a new range of telephone recording adaptors from ReTell, the experts in the field of call recording and telephone technology.
Go to Telephone> Recording Adaptors for more information.
6-Zone Alarm Panel with Keypad
A very high quality UK manufactured micro-processor alarm control panel featuring six zones including dedicated exit/entry and five other programmable zones.
Go to Order Code SAL015 for details.
LED Parasol Light, 28 LEDs
Multifunctional and durable, specifically designed to mount on any pole of 25 - 44mm diameter, making it ideal for fitting to a garden parasol.
See Order Code BCM66G for details.
Self Contained PIR Alarm with Keyswitch
Self-contained passive infrared intruder alarm with keyswitch and built-in 95db siren. The unit may be free-standing or wall-mounted.
Especially useful for locations such as garage, caravan, out-building, shops, offices and camping.
See Order Code BCM09G for more details.
La Crosse Weather Stations
We are the official stockists in South Africa for the La Crosse range of professional quality weather stations.
See our Time & Temperature Section for full details.
Getting Started with Arduino
Get a thorough introduction to Arduino, the open-source electronics prototyping platform that's taking the design and hobbyist world by storm.
A full description is available at Order Code GBL96G.
Eton S450DLX
Brand New Field Radio from Eton giving almost continuous coverage from 0.53 to 30 MHz for Long Wave, Medium Wave and Short Wave bands, plus VHF stereo FM Band. A wide/narrow bandwidth switch helps to eliminate or reduce adjacent channel interference.
Now in stock, see Order Code NAV06G.
---
About our web site....
In 2007 we migrated our system and web site from Windows to Linux. Customers that have previously registered their details with us, whether with Maplin SA or Yebo Electronics, and included an e-mail address, no longer need to re-register their details with us. Simply follow this link, enter your e-mail address and request a password (which you can change once you have logged in).

If you are a new customer and would like to place an order using this website, it will be necessary to register your details. The registration process takes only a few minutes and can be completed by 'Logging Yourself In'. It is completely secure and is certified as being so by ScionSSL Pro.

Customers registered with us can choose to receive a brief e-mail each month that provides a summary of our monthly Newsletter, as published on this website. Unfortunately, certain ISP's may attempt to block our Newsletter e-mails, incorrectly interpreting them as being Spam Mail. If you have not received such communication from us recently, we suggest you log in and check the status of the Newsletter Subscription field and, if necessary, reset it to 'Subscribed', whilst ensuring your e-mail in-box accepts mail from us.

Our web site is hosted in Reading, UK. It is compatible with all popular web browsers, including Firefox, Opera, Konqueror, Safari, Chrome and Internet Explorer. It is best viewed 1024 x 768, or greater. If you experience any problems whilst browsing our site, please let us know.

As part of a desire to continually improve our service, we are making ongoing changes to our web site.

How to order....
Registered customers can place their on-line orders using this secure website. We offer various methods of despatch, depending on your order weight/volume and your destination. On completion of your order the options applicable will be displayed.

Alternatively, you can purchase goods direct from our stores located in Bellville or Plumstead, open Monday to Saturday (our Bellville Store also trades Saturday hours on most public holidays). Full details can be found on our Store Locator page.

We accept Visa Card, MasterCard, bank deposits (money transfer) or 30-day account for pre-arranged trade customers.

So who are we?
Based in Cape Town, we first launched in South Africa in 1992, trading as Maplin South Africa, and as a distributor of the UK company, Maplin. However, following a £15m+ buyout of Maplin in 2000 we decided to become an independent entity and changed our name to Yebo Electronics. We continue to offer a similar range of products, but by dealing directly with reputable suppliers and manufacturers we are able to pass on the cost benefits to our customers.